DYSC's 5th Annual Big Gay Variety Show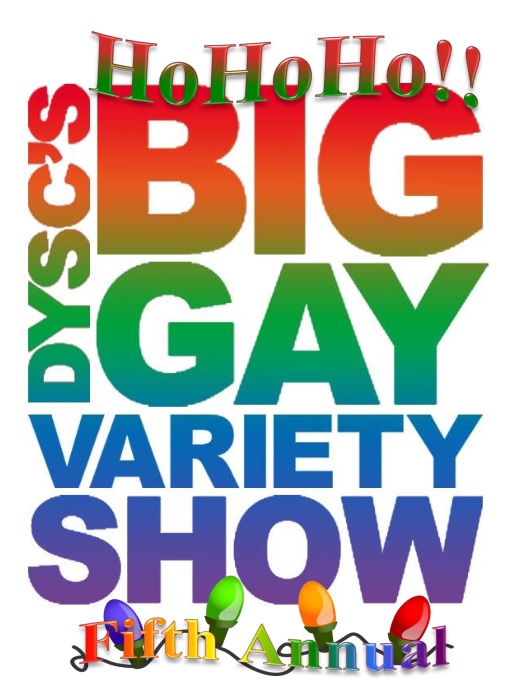 Friday, December 19, 2014
7:00pm
Unitarian Universalist Church – 1818 Reservoir Rd., Little Rock
Sliding scale admission: $8-15
Including Performances By:
Gender Illusionists
Musicians
Poets
Singers
And So Many more

We will be honoring The Living Affected Corporation by donating 15% of all proceeds to the incredible HIV/AIDS advocacy/prevention work they do in the state.

The remainder of the proceeds will go to the purchase of a new TV, game system, and projector for the LMH Youth Center at CAR - Arkansas' only LGBTQ youth drop-in center.

There will be wine, beer, and concession available for a donation.

Tickets are on sale now!
Sliding scale from $8-$15
Please either email
kat.n.crisp@gmail.com
or call (501)244-9690 to purchase your tickets.

Facebook Event:
https://www.facebook.com/events/1468766270063330/
World AIDS Day Events Announced
Connie Roebuck, commonly known as the,

"Condom Lady", will be hosting the city's Annual World AIDS event, Monday, December 1st, 6-9pm, at the Forrest City Civic Center in Forrest City, AR,



The event will feature area agencies displaying educational materials and literature concerning their mission's to decrease infections in Arkansas.
Concurrent to the event, Roebuck also has been contracted as a Community Connector, as apart of a prevention outreach initiative designed to provided linkage to care opportunities, HIV/AIDS intervention and coordinated testing with the Arkansas Department of Health. Under the title, "The Roebuck Project," she will continue her long running efforts to reach out to smaller sized communities in her service area.
As a long term survivor, Roebuck has participated in numerous local health fairs, addressed students in delta region schools, has appeared on Delta Force radio and recently was a featured guest of AIDS United in Washington D.C. during their Capitol Hill briefing on women, violence and HIV.



According to program information participant will eligible to win a $300.00 Grand Prize, $150.00 Second Prize, $50.00 Third Prize.

For youth (14-19 years old) in attendance they could win a pair of Dr Dre Beats (headphones) and other prizes. Free Food and beverages will also be available.



For more information, please contact Connie at: 870-270-3052
Bush Mallon Institute Engages Southern Literary Project
Earlier this year, members of The Bush Mallon Institute under the leadership of Mr. Kevin Elders and Mr.Michael Ross sought to identity possible projects or initiative that would serve as additional
programming under their social justice scope of work. Consequently, they identified the " Reflections of A Shattered Mirror Project" in
a collaborative agreement with former board member and program developer Cornelius Mabin for the STRILITE initiative based in Little Rock, Arkansas.
Mabin stated, "As we conversed about possibly teaming up, I informed the BMI leadership that the group had decided to further expand it's scope of service by producing an anthology periodical comprising of personal lived experience compositions, social justice essay pieces, prose and other varying content." He continued, "since the BMI had a social justice angle, I felt that it was a natural fit to create a partnership that also could be extended unto the entire NABWMT membership."

He concluded, "the project title evokes a sense that we must shatter the mirrors of stereotypes and poor imagery that have fueled low esteem, a sense of hopeless and growing suicides among some young gay men in our service area."
During the recent national NABWMT conference, the project was also highlighted as part of an enlightenment session on how social media would play an instrumental element in the recruitment process and eventually in the marketing of the entire finished project which is now set for first quarter 2015 release. Content submissions are still being sought until December 31st at nealix101@comcast.net