National HIV Testing Day 2014
COP 24/7
has been on the march this week updating our site with the most current information and other activities around the June 27 event. In an earlier post, we cited that we couldn't discover any actual activities taking place, however, late breaking information was released as it was announced that a testing event will take place involving the
Arkansas AIDS Foundation
and
The Living Affected Corporation.
At post time, additional details were unavailable, however when we get them, we will most certainly share them. I don't make this stuff up folks. All I can do is try to message it even though I feel that this type of hasty and flying by the seat of your pants type of planning usually doesn't yield much. All I can say is that this forum has been the mix from the onset of the entire week and has been pumping out, no less than from the road on multiple channels. Just sayin. In the meantime, check out the video below from our video partners at YouTube and if you know of any other activities that are later breaking don't hesitate to tell somebody.
Visualizing Health Policy: Understanding the Effect of Medicaid Expansion in the South
This Visualizing Health Policy infographic examines the effect of decisions by states in the South to implement or forgo the Affordable Care Act Medicaid expansion. This premise is also central to my attendance during the Southern Health Partners conference occurring in Atlanta this week. Organized by Community Catalyst, and each session unpacked next steps in capacity building, community organizing, best practices and strategies. On Friday (June 27) the LGBTQ roundtable will feature presenter Andrew Cray, Policy Analyst, LGBT State Exchange Project, Center for American Progress to discuss how the ACA has impact that community.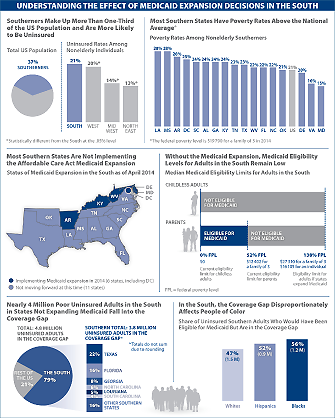 That session is targeted to drill down on the fact that many in the LGBTQ community are either uninsured or underinsured. Furthermore, the intersections of Ryan White services and those states whom have not move forward with Medicaid expansion. It is expected to be a robust discussion that participants will lead to additional organizing around a collective that will coordinate efforts across states.
The graphic shows that Southerners are more likely than people living in other parts of the United States to be uninsured; that most Southern states have poverty rates above the national average; that without the Medicaid expansion (which most Southern states are not implementing), Medicaid eligibility levels for adults in the South remain low; that nearly 80% of the 4.8 million uninsured US adults who fall into the coverage gap live in the South; and that the coverage gap in the South disproportionately affects people of color.
The Rapert Roar: Still All Hat and No Cattle
Well you wouldn't ya know it!! State Senator Jason Rapert (R-Conway) just can't seem to shut up by no means even when he has "foot in mouth" disease. At this point he's a loose cannon that you just don't know what to
expect will fall from his lips nor who will find some means to take his tirades seriously.
Mr. "God, Gays and Guns" fiddler himself even got Judge Wendell Griffin riled up with a opt editorial in the Arkansas Demgaz that all but busted this joker out with candor, grace and the eloquence that Mr. G emotes effortlessly.
So just what will this busta will not do or say that requires COP 34/7 to keep hitting the "we're crazy" button!! But you know we love our crazy folk in the south by just saying "bless his little heart, he just can't help himself.

Rapert has just been beside himself ever since that Piazza decision including that ridiculous and senseless resolution decrying that "marriage is one man- one concept.". But while he's towing that line, hold on a minute let's do a rewind. Isn't this the same dude that has been mucho loco about policing women's vagina's with a nine inch probe?
Not to mention more crazy talk about "taking the country for the Lord," while attacking the President Obama about visiting with Muslim leaders to the White House instead of attending the national prayer breakfast for Rapert was totally incorrect. And add to his crazy greatest hits is his fetal heartbeat bill.
And not let's forget that the good Senator has the audacity, temerity and down right gall to align himself with a cadre of African American minister's on the Capitol steps citing that they were with him in his crazy. Let's call that what it was, a blatant attempt to do a "Prop 8" move that somehow there's a overwhelming support against the LGBTQ community from seeking full inclusion in our society.
Allegedly, Rapert waxed on with this comment,
"we're not going to allow minorities to run roughshod over what you people believe in." Really you people? Talk about a "wing nut."
And what people would that be anyway Mr. Rapert? Have not your own policies and rhetoric been some of the most inane and asinine as well as embarrassing verbiage spewed since being elected. Just so you know Rapert has garnered several Facebook pages devoted to either debunking his crazy or trying to fund raise for another candidate to replace him. Check this link to donate to candidate Tyler Pearson:

https://

secure.actblue.com/

contribute/page/

tylerpearson

Please people in Conway, do what you can to send this crazy back to the corner it came from.
And now for a commercial moment...
Do you Know? If not, the you should. Check out our locator widget in the margins to find a testing site near you!!