Dining With Pride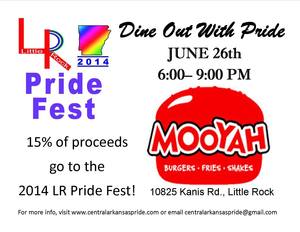 June 26, 2014 – 6:00-9:00pm
Mooyah Burger and Fries 10825 Kanis Rd., Little Rock
Everyone has to eat dinner! So. Bring yourself, your family and friends to Mooyah! 15% of the proceeds for the evening will go to support Little Rock PrideFest October 5, 2014.

Little Rock PrideFest is going to be held at the Clinton Library grounds. There will be a parade followed by a festival that will feature vendors, entertainment, a free picnic, and so much more!

So come out and help make this the best Pride Little Rock has ever seen!
Northeast Arkansas Goes Pride!
Artist Carol Plunk will be among the featured guest at the 1st Annual Northeast Pride celebration being held June 28 from Noon to 4pm at Craighead Forest Park, Pavilions 3 & 4 in Jonesboro, Arkansas.
This is jus the latest of the round of pride events that have taken place around the state as Little Rock continues to prepare for its fall showing in October. According to the groups Facebook page, organizers have been busy acquiring T-Shirts, wrist bans, and all manner of "pride" gear to assist with making the event successful.
The event will also host a "Pet Pride" parade as owners will walk the runway with there animals attired in the their pride best. COP 24/7 congratulates all organizers in their respective communities on gathering momentum to demonstrate the diversity of the LGBTQ community and beyond! For more info contact: northeastarpride@gmail.com Tell them you heard it here first!!
Schedule of events

10:00 - Setup begins
12:00 - Day event opens - opening remarks
12:00 - Community picnic begins
12:15 - Community talent pride silent auction begins - Food, Fine Arts, Handmade Crafts, Services - proceeds to benefit pride
12:30 - Volleyball starts
12:45 - Children's games begin - Face painting throughout the event
1:00 - Carol Plunk, first set - CDs available!
2:00 - Carol Plunk, second set
2:45 - Recognition of Couples with enduring relationships - 10-15 years, 16-20 years, and 20+ years. Longest lasting couple receives a special gift
3:00 - Blessing of Couples - Photos
3:15 - Pride Pet Parade - 3 categories of prizes: Most creative, Best of Parade, Most Prideful
4:00 - Day event closes