Faster, Easier Cures for Hepatitis C
Transformative advances in drug treatments approved by the Food and Drug Administration are giving the 3.2 million Americans with chronic hepatitis C a chance for a longer, healthier life without the virus. That's welcome news for baby boomers—who make up three of four adults with the hepatitis C virus—and millions of other Americans, many of whom don't yet know they are infected and carriers. Earlier this week there was a recognition of World Hepatitis Day to continue to elevate the public health response to a disease that impacts more than 400 million people globally. Much of this education elevation also is vitally needed in Arkansas which needs to further scale up its methods to address this health dilemma.
Hepatitis C can be cured, and today's drug therapies are very effective and easier for patients to take, says Jeffrey S. Murray, M.D., the deputy director of the Division of Antiviral Products in FDA's Center for Drug Evaluation and Research. Murray is an internist who specializes in infectious diseases.
A Preventable and Curable Disease
Hepatitis (inflammation of the liver) refers to a group of viral infections that affect the liver. The most common types are hepatitis A, hepatitis B and hepatitis C. Each is caused by a different virus.
Hepatitis C is the most common chronic blood-borne infection in the United States. There is no vaccine for this disease, but hepatitis C can be prevented by avoiding behaviors that can spread the virus—including sharing needles, syringes or other equipment to inject drugs.
A diagnosis of hepatitis C no longer means months and months of painful drug injections, which for decades were the only option. Science is making strides in therapies, giving patients new alternatives.
"Interferon-based injections often make patients feel ill and give them flulike symptoms," Murray says. The treatment by interferon also lasts six months to a year, and cures only 40% to 50% of hepatitis C patients.
"Patients with very advanced liver disease couldn't take the traditional treatment because often those injections could make them worse," he adds. "Now, patients can treat their hepatitis C with only pills– drug combinations that are faster and have a higher cure rate."
Today's pills have double the viral cure rates—90% to 100%—in just in 12 weeks' time. Reducing the treatment from a year to three months is a huge advantage for people with hepatitis C, especially because it's easier to swallow a pill than to get an injection, Murray says.
The new regimens include Sovaldi (sofosbuvir), which is the first drug approved to treat certain types of hepatitis C infection without the need to co-administer interferon. In recent years, FDA has also approved three protease inhibitors—Olysio (simeprevir), Victrelis (boceprevir) and Incivek (telaprevir)—to treat chronic hepatitis C virus infection. Olysio is a protease inhibitor that blocks a specific protein the hepatitis C virus needs to replicate. The drug is a component of a combination antiviral treatment regimen.
FDA provides information through a
Hepatitis e-mail list
, along with notices of upcoming public events, such as advisory committee meetings, and opportunities to comment on policies and issues that affect people with hepatitis B or C.
Better Together Taco Party Night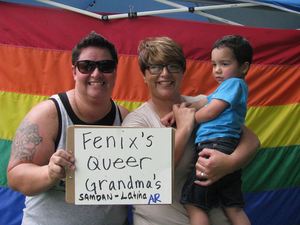 Saturday, August 2, 2014
6:30pm
The Centers at CAR
800 Scott St., Little Rock (inside First Presbyterian Church) 72201

Taco bar, sangria, community, fun and a photo booth.

CAR is a member of collaborative project called the Better Together Cohort, a collective of 8 Southern LGBTQ centric organizations brought together by Race Forward (formerly the Applied Research Center). Together we are working on a project called "We Are the South" collecting photos of the LGBTQ community and allies in our respective states. This fall we will do a coordinated national media drop, sharing who we are as LGBTQ and Ally Southerners!

We will also use these collected photos as a part of the education process for the "Add the Words" campaign regarding the importance of the inclusion of LGBTQ community in the state's civil rights law . "Add the Words" is a part of the Arkansans for Human and Civil Rights coalition's priority platform.
Attention all business, service and independent owners! The READ is looking for you! Let us help spread the word about how you can be of service to our readership in the LGBTQ community.
We value our local businesses and the impact and support that they have within the community. Call us today at 501-349-7777 to get your firm on board with celebrating your brand to our growing audience. Let us hear from you today!!