Pride in the City
The Mindset of Jason Rapert
As rainbow flags fly, cries of equality abound and folks creating programming to address the LGBTQ construct move forward, amidst this activity also comes the ongoing dogma and hate tinted rhetoric of none other than Sen. Jason Rapert (R) Conway.
If you don't know who this character is, then let
COP 24/7 refresh your memory.
He
also
wanted to impeach
the judge who struck down the state's gay marriage ban and who
wants to install a 10 commandments monument
at the state capitol. Rounded up and inserted himself among a group Black ministers to rally against marriage equality. And also he's the mouthpiece that won't quit when it comes to being the poster boy for calling out the "gay agenda" and those sinful followers attending last Sunday's Pride parade in Conway.
But obviously he had no problems with the big Conway Gun show that was taking place during the same time period. Also he's the firebrand that wants to poke around almost anything
This platform almost couldn't contain ourselves as social media sites blew up with retorts to rumblings from the "mind of Rapert," and other sites that had a field day with his own words. One such site, Patheos, posted the following:
"They understand that the lifestyle they are glorifying on our streets is considered sin by every Bible-believing Christian and they use their parade on a day reserved to worship God and reverence the Lord to mock Christians. I object to Mayor Townsell and the Conway City Council continuing to allow people, many of whom do not even live in our community, to parade down our streets on a Sunday and accuse Christians of being 'bigots' because they believe the Bible teaches that homosexuality is sin. This is truly one of the most offensive public displays against Christians you will find anywhere in our state and especially offensive because they have specifically chosen Sunday to try and intimidate people who believe in the Word of God." - See more at: http://www.patheos.com
Let's just say that wrath of Rapert is still churning with more to come. Keep it locked and loaded at COP24/7 to hear the latest!
Smollett Just Announced Headlines a Special ESSENCE Empowerment Experience Panel at the 2015 ESSENCE
Jussie Smollett, star of FOX's hit TV show Empire, is joining with Greater Than AIDS and the Black AIDS Institute to headline a special
ESSENCE Empowerment Experience
panel in New Orleans on Friday, July 3rd on "The Power of Love & Family: Ending AIDS in Black America," moderated by Soledad O'Brien.

The ESSENCE Empowerment Experience is the FREE daytime community forum of the hugely popular
ESSENCE Festival
.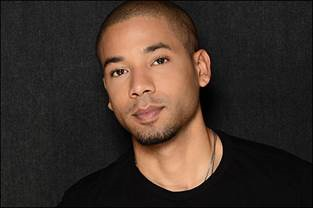 On television, Mr. Smollett plays Jamal Lyon, the sensitive, talented and openly gay son of music moguls. In real life, Mr. Smollett, who serves on the board of the
Black AIDS Institute
, has long been involved in addressing the epidemic facing Black America. He along with his sister, the actor Jurnee Smollett (Friday Night Lights, Parenthood,True Blood), have
spoken out on behalf of Greater Than AIDS
to confront the silence and stigma that too often still surround the disease.
Black Americans have been disproportionately affected by HIV/AIDS, accounting for more new infections and deaths than any other race or ethnicity in the United States. While rates of HIV have decreased among Black women in recent years, a striking increase among young Black gay men is causing concern. The lifetime risk of a Black gay man getting HIV today is one in three, with many infected as teens or young adults.
The hour-long program will explore the powerful influence of family and love in confronting the rising rates of HIV. Ms. O'Brien will open with a one-on-one with Mr. Smollett about his commitment to bringing more attention to HIV/AIDS in Black America

, and then continue the conversation with

Otis, a young Black gay man living with HIV and Greater Than AIDS Ambassador, and Otis' mother, LaTongia, who will speak about their own real-life experiences facing HIV as a family. Dr. Leo Moore, a young HIV/AIDS physician who grew up learning to embrace his love for other men in a religious family in the South, will add insights.
"The Power of Love & Family: Ending HIV/AIDS in Black America" panel begins at 4:35 p.m. on the main stage of the Grand Hall of the Ernest N. Morial Convention Center. An in-person audience of more than 8,000 people is expected, and the program will be live streamed on ESSENCE.com.
Enroll America at the State of Enrollment Conference in Washington, D.C., June 10-12.
With over two days of plenaries, workshops, trainings, and events, the conference offers valuable opportunities to learn and plan as we continue to help Americans enroll in and retain health
coverage. C. Mabin will join the Arkansas delegation in attending this national event that offers best practices, reviews and updates on the impending OE3 ( open enrollment 3) coming November 1, 2015.
The massive conference will highlight networking with peers and partners from across the country as participants take a critical look at what worked better during the second open enrollment period for the health insurance marketplaces, what barriers persist in enrolling and retaining consumers in health coverage, and how we can all work together to build and sustain momentum in our ongoing effort to get America covered for years to come!
On Wednesday, April 29th, Enroll America announced that Department of Health and Human Services Secretary Sylvia Mathews Burwell will be the keynote speaker at their State of Enrollment 2015 National Conference in Washington, DC on June 11. At the conference, Secretary Burwell is expected to speak about lessons learned from the latest Affordable Care Act open enrollment period, and the challenges and opportunities she sees for the enrollment coalition in the coming years.
Enroll America is the nation's leading health care enrollment coalition; last year, the annual State of Enrollment Conference drew hundreds of attendees from 48 states, including enrollment assisters, health-care providers, insurers, state and local governments, as well as faith and community-focused organizations. Check
www.facebook.com/corneliusonpoint
for live streams and updates during the conference.