A "Whirling Dervish" is described as a person who's behavior resembles a rapid, spinning object which espouses engaging chanting sending the devotee into a ecstatic eruption of devotion. Wow, felt like that before? Well have ya? Lately my entire life has been a "whirling" hot mess of meetings, webinars, teleconferences, travel and deadlines that would make almost anyone else's eyes roll back into their heads. How do us die heart advocates and activist do it, is up for much discussion, especially as we often ponder the thoughts of "why are we doing this, again?" Ultimately the proverbial answer that echos back to us, "is not only because we care, but in some order we feel a call to do the work to help safe lives." In case you didn't know and most likely you don't, being " HIV/AIDS caped crusaders," is not for the faint of heart. Its filled with ups and downs, pitfalls, backlash, side steps, booby traps, bull shit all before you get to a place of feeling fulfilled by knowing that someone may have decided to remain in care, access care or find a reason for living. The territory can be tricky and every now and then, you're ready to throw in the towel, then there comes a story with a glimmer of hope in the face of disparity. Ladies and Gents, and all who haven't decided, the world activism can be brutal but as far as this forum is concern, "No Guts, No glory" is our mantra that has lead us to this current place of empowerment, energy and whirling enlightenment. Thanks for sticking and staying with COP 24/7, its been one hell of ride and it ain't over yet.....
Shades of Sex Worker Violence in the 21st Century
With the culture wars in full motion of deciding who or what will preside over the latest "vagina" issue, there are many dilemmas that are languishing in the shadows and often the radar. Currently the Secret Service is embroiled in a sex scandal in which they engaged "sex workers " for their pleasures and then wanted to stiff the ladies of their funding. Although in that city, where the trade is legal often those who are sex workers in this country find themselves perilously practicing their trade sometimes with dire consequences. The North Carolina Harm Reduction Coalition has taken hard look at the situations and circumstances that impact local sex workers in their area. I have read many of their alerts, position papers and now the group brings the lives of these individuals to life in a thought provoking video. As I watched it, especially as I've been apart of the impending "
LEGENDS Project
" of The Living Affected Corporation, I knew that this piece had to make the cut. Much of the material shown also was apart of the research done in preparation to submit the organizations grant to tackle another marginalized community, transgendered women of color who have not engaged in HIV/AIDS care or have decided to forgo treatment due to the lack of culturally sensitive pathways to such care. I will share more about the ground breaking
LEGENDS Project
in a later post, but would like you to take a moment to open your mind and listen to the plight of those who practice the worlds oldest profession in the 21st century.
Sex Worker Violence Prevention
from
North Carolina Harm Reduction
on
Vimeo
.
CORAZON Takes Flight this Weekend
Saturday, April 21, 2012
Mediums Art Lounge 521 Center St., Little Rock
Preview party begins at 6:00pm $5.00 admission
Silent Auction begins at 7pm.
Hors d'oeuvres will be served and Adult libations and soda available for a donation.
This is CAR's signature event. We've given our hearts to community members near and far and asked them to create works of art for this wonderful auction. Each year when the Cόrazons are returned to us we are always amazed at the level of thought and creativity that has gone into them. So be sure to join us for this night of community art. Your purchases allow CAR to continue it's work for and with LGBTQ Arkansans for fair and equal treatment. For more information:
ArtChangesU@yahoo.com
or
501-244-9690
.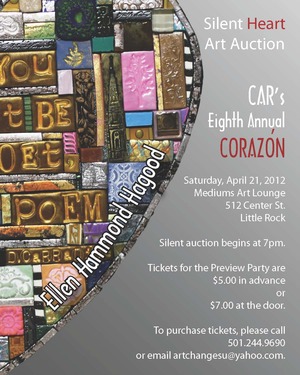 COP 24/7 Special
HIV Arkansas Advocate Speaks to Growth
Raising Our Voices-An Advocacy Summit for HIV Positive Women by Kari Coffman
The Positive Women's Network of California decided to get positive women of the south together and teach them, empower them, and help them realize that they are not alone. I was one of the lucky 60 beautiful southern women that were chosen to attend the conference. It will never forget the emotions and the strength that I gained from all the knowledge that I obtained from that conference. There aren't enough words to express how thankful I am to all of the people that made it possible. I feel like I am strong enough to conquer the world now.
Some of the topics that were discussed during this conference were;
Politics
, I have learned that it is very important to become aware of the politicians and what they stand for. They sign bills that are passed that could either save my life or potentially kill me when it comes to my healthcare!
Healthcare reform
, it is a big mess! Very confusing. Goes along with politics. We need to know about it because it has to do with our lives.
Human rights
, it is amazing how little things have changed when it comes to society's knowledge of HIV/AIDS! We, people living with HIV/AIDS have the right to live a normal everyday life with a job, family, and friends just like anyone else.
Criminalization Laws
, I learned that the state of Arkansas has the strictest laws when it comes to people infecting others with HIV/AIDS. In many states, still to this day, if an infected person bites someone or even spits on someone, they can be charged with attempted murder or some kind of murderous charge. There is a senator working very hard trying to get these laws changed since HIV is no longer known as a "death sentence."
Statistics
, we did an exercise that showed us that since we were abused as children we went on to be promiscuous as teenagers which led us to failed marriages which then led to more promiscuity. Most women were infected with the HIV virus in their 30's
Data
, they taught us that it is important to know the numbers. There is proof in the numbers. If you want to get a grant for something or even grab the attention of a leader of the town or state, you can always back yourself up with numbers. For instance, 1,000 people live in this town and 10% of them are infected with HIV what are you going to do about this situation, sir?
Being a Great Leader
, they taught us that it was important that we put ourselves first at times. We have to be healthy and happy to be a good leader. We have to learn to say NO! It is not good to put too many eggs in one basket and overload yourself. Otherwise you will stay stressed and not be a good leader.
Those are just a few of the great topics that were discussed at the conference. We were also given the opportunity to attend a, Yoga of the Breath class each morning. That was wonderful. The class was geared for people living with HIV/AIDS. The instructor taught us different ways to breathe through our nose, ways to awaken our body, and awaken our spirit to be more relaxed throughout the day. I think that was my favorite part of the entire conference.
The most important part to me was the moment I realized I was not alone! The minute the girls picked me up from my hotel to the moment they dropped me off at my hotel I felt so loved. It was very emotional when I realized and came to the understanding that I am not alone. I have a wonderful support system here at home and I love them very much, but the energy of being around other positive women was invigorating.
I am so glad that I chose to go on this journey! It was not easy leaving my daughter for the first time in seven years. It was worth it. I feel so empowered. This has opened my eyes to many things in life. I feel that I have been educated and now it is my duty to pass that education along. I am a mother, I am a daughter, I am a full time college student, I am a Girl Scout Leader, I am a neighbor, I am a great friend and I am HIV Positive!
Thank you again to all of you that help make my dreams come true in sending me to this conference and making this conference a reality! (courtsey of
www.hivarkansas.org
) (photo: COP 24/7 archives)