What do Young Gay Black Men Need?
A Sound Off to the Sounds of Silence
Here's another update on our posting of the article from Mr. Brandon Thompson who attended a BGM technical assistance meet up in Dallas, Texas in 2013. And there's more news about the Young Black Gay Men's Leadership Initiative (YBGLI) Organizing Committee (OC) Membership drive that is seeking new candidates to join them for a conference call on
Friday, May 2, 2014
from
1:30 – 2:30 PM EST
by dialing
1.866.740.1260
begin_of_the_skype_highlighting
1.866.740.1260
FREE
end_of_the_skype_highlighting
and using access code
2790121
. On the call, participants will hear more about the history of YBGLI, details about the duties and responsibilities of an OC Member and have the opportunity to ask questions of OC Members. You may register for the conference call below using the Eventbrite form for e-mail updates and be informed of future programming, HIV/AIDS treatment and prevention efforts of YBGLI.
Thompson cited numerous observations concerning what he perceived were "needs" from young gay men 13-30. COP 24/7 also offered insights as to his premise and opened the floor for a complete discussion on the matter.
Since his post and my subsequent rebuttal post, to date at most there has been little to no other official responses. However, I've learned that there has been some bemoaning, grumbling and other spilled chatter that happens when individuals decide to stay in a comfort zone mindset that fills there need to support them in their fickle feelings with reckless results culminating in the DIVA affect: Dysfunctional Individuals Vying for Attention.
It's a proven fact that when we act emotionally rather than rationally often times we over react based on what we are feeling instead of understanding of the situation. Although I fully understand that my experiences may not resonate they do have value in context as a "learned experience" that could teach important life lesson's. Let's be clear, living the life is a process, making changes in one's life take process and the outcomes of processing it all takes you to the promised rewards that you seek. I learned long ago that having the courage to stand in my own truth amidst those who had no wish for me to grow or prosper because I had the courage to do so then and now.
I become passionate about this topic as I continue to hear and see many across the LGBTQ set especially young Black Gay Men around this city who have all but decided that hopelessness and haphazard living is to be their norm. I've heard and keep hearing that this embracement is because its seems to fill the voids of economic disparities, lacking intimate relationship skills, uninspired value systems and dysfunctional parental connections.
Yes there are issues. Yes there are challenges and barriers. But taking personal responsibility for one's life is paramount in "changing the story" that you keep living everyday. If the script stays the same, so will the outcomes within your situation. In some meetings attendees say that they don't want to be preached to, yet these are the same individuals occupying pews listening to sermons that most times are not affirming. I'm not about the preaching but I am willing to teach if someone is willing to have a teachable moment.
Furthermore, how can any of this be articulated if those who could be in most need, don't mobilize to speak for themselves in whatever manner they desire. So as a teaching minute, here's some info pondering if you could you be one of the next
Young Black Gay Men's Leadership Initiative (YBGLI) Organizing Committee (OC) Members?
If any young men in the area are ready to aid in the betterment of the lives of fellow young, Black gay men? The YBGLI OC is excited to announce that we are seeking new members to aid in the development and operations of YBGLI. Applications will be accepted beginning
Monday, April 21, 2014 at 2pm EST
and the application deadline is
Friday, May 30, 2014 at 5pm EST
.
The READ Prepares for May Launch
In case you have missed it and why would you have, The READ is all the rage around town. You can discover it in most local LGBT haunts or venues and across the state. Currently the local newspaper
is seeking advertisers and supporters to keep moving this news outlet to the next level. Deadline is
May 5
for all copy and or original content. Ad copy should be forwarded with remittance by
April 30.
If organizations or businesses need press packets to outline pricing and media reach contact The official launch will take place May 15 at The New 610 Lounge, 610 Center Street, in downtown Little Rock. An online version is also under construction with sites set on cross marketing using social media platforms and other associated portals. For more information call
501.379-8203 or 501-349-7777.
This what the community said it wanted, now its here for all to rally to its support. Let them hear from you.
Trans / Queer Yoga – April 26, 2014
Saturday, April 26, 2014
1:00pm-3:00pm
Last Saturdays of the month
Barefoot Studio West - 8501 Pinnacle Valley Rd., Little Rock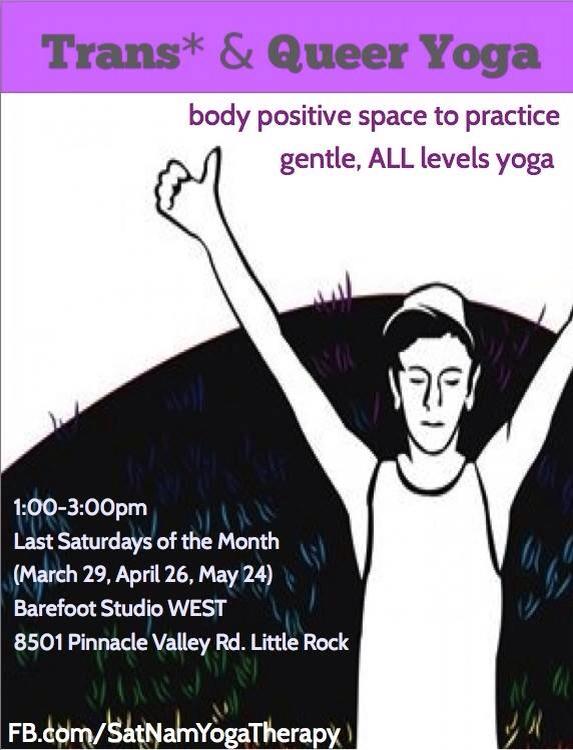 FYI. Half of the proceeds from this session will be donated to CAR's Rainbow Camp effort for LGBTQ youth. Sliding scale $5 to $12 dollars.
LR Pride Planning Meeting – April 27, 2014
7:00pm at CAR (inside First Presbyterian Church) 800 Scott St. Little Rock

Join us as we work to plan the 2014 Little Rock Pride Parade! We will be discussing this year's theme and upcoming fundraisers! Please share and invite your friends!