With the 2012 Election cycle winding its way to an all out full tilt. This week the GOP convention set's up its big top extravaganza in Tampa, I couldn't believe that this week is the 7th anniversary of that national disaster named Katrina that captivated the nation as well as myself. Wow, has time flown by and yet we all keep getting reminders of darker days amidst the ballyhoo of a Presidential campaign. How ironic nature can be to tweak our mindset to the poor response of government and the devastating consequences of those who are really out of touch with realities that are so "real" for many of us. Nevertheless,
COP 24/7
keeps bringing it and sharing it with our unique mash up of news, views, links, videos and opinion pieces. Its all here for the taking! If you are not following us, bookmarked, opt-in e-mail, then come join us for the latest.
RNC 2012: Fla. gay Republicans welcome GOP convention
(sourced from The Advocate, Chris Johnson)
Undaunted by an impeding hurricane that led to the cancellation of the first day of the Republican National Convention, gay GOP leaders in Florida hosted a welcoming event Sunday for convention participants interested in a more LGBT-inclusive Republican Party.
Heads of three chapters of the National Log Cabin Republicans — those from Tampa Bay, Miami and Broward County — held the event at the Rusty Pelican in Tampa, along with leaders from the national organization — including Log Cabin executive director R. Clarke
Cooper — as a prelude to the Republican National Convention in Tampa, Fla., leading to the anointment of Mitt Romney as the Republican Party's presidential nominee. COP 24/7 has not be able to determine if there is any Arkansas delegation that attended this event. According to their website,
www.logcabin.org
, Arkansas doesn't have a chapter or a contact person. Even though I fully understand to each his own, but I've always had a bit of hard time to reconcile their statement that the "
Log

Cabin works to build a stronger, more inclusive Republican Party by promoting the core values of

l

imited government, individual liberty, personal responsibility, free markets and a strong national defense while advocating for the freedom and equality of gay and lesbian Americans." I don't recall the presumptive nominee Romney nor his VP candidate Ryan espousing any of this during any campaign speech or in any interview. Of course stranger things are bound to happen as election day draws nearer and the "mixed" signals being touted by this outfit will require further exploration and disussion.
Attendees expressed support for Romney as the Republican standard-bearer in the presidential election despite the candidate's lack of support for LGBT rights and positions such as support for a Federal Marriage Amendment banning same-sex marriage throughout the country.
Jim Pease, president of Log Cabin Republicans Tampa Bay, was among those who professed support for Romney because of the candidate's business experience and conservative fiscal policies.
"I'm glad to see someone who has a good business background and I think this is what we need," Pease said. "In my opinion, we're headed toward a cliff with the accelerator on the floor. We need to slam on the brakes, do something, make a right-hand turn because we're headed toward a cliff the way it is."
Asked whether Romney's opposition to LGBT rights was troublesome, Pease replied, "If we go over the cliff economically, gay rights is going to be the least of our problems."
Mimi Planas, co-chair of Log Cabin Republicans of Miami, said she's voting for Romney because she isn't happy with the economy and thinks he will manage the country's economy better than the Obama administration.
"I'm gay and get that whole thing, but I also have other things in my life," Planas said. "There are one-issue voters that only care about that. I'm not one of those people. There are many issues that we got to look at. We got to look at national defense, we got to look at the economy, the spending, so many different things. Yes, that's one issue and we'd like that to be different, and one day it will be."
Attendees came from across the country. Rich Weissman, 58 and a gay Portland, Ore., Republican activist, said he came to the Republican convention for the first time to generate support for marriage equality within the Republican Party.
"I feel that the times are such today that people like me who are conservative, who believe in Republican values when it comes to things like the economy, when it comes to things like health care, jobs and those issues — but who are gay — need to speak up and become part of the party and change the way in which the party looks at critical, critical LGBT issues, and that's why I'm here," Weissman said.
Among the ways that Weissman he's speaking out is "simply being" at the convention while talking to lots of other attendees to "assure that organizations like Log Cabin have a significant, significant presence."
Weissman, who's Jewish, married his partner one-and-a-half years ago in Portland, Ore., in a ceremony officiated by a conservative rabbi. Weissman said he considers himself married, even though Oregon doesn't recognize same-sex marriage.
Event attendees were as dismissive of the party platform as they were of Romney's lack of support for LGBT rights. The document was recently revealed to include language that limits marriage to one man, one woman; attacks the Obama administration for failing to defend DOMA; criticizes judges who rule in favor of marriage equality; and endorses a Federal Marriage Amendment.
Pease said the platform "sucks," but added the manifesto means nothing because "the candidates follow their own their policies" without regard to party platforms.
"I haven't figured out exactly why they do them, but I guess it gives somebody something to do on the weekend," Pease said.
Planas said Republicans who support LGBT rights "may not have gotten everything they wanted" out the platform, but noted Log Cabin was credentialed to take part in the platform discussions and the platform committee had discussions on amendments to soften the language that were ultimately rejected.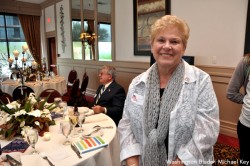 "It's disappointing, but we were there and we stated our case, which is the first time ever that's happened," Planas said. "So we're making progress, we're out there, we're stating our case and we're being invited — which is more important than anything — being invited into the Republican Party, so those are big wins for us."
Pease also had less than kind words for former Florida Gov. Charlie Crist, the former Republican who ran for U.S. Senate as an independent and endorsed President Obama in
an op-ed in the Tampa Bay Times. Crist has been the subject of gay rumors for years, though has said he isn't gay.
"Charlie's out for Charlie," Pease said. "We know he's turned his back on the Republican Party. They don't want him. He has no choice but to go the Democratic Party, so he's got to start doing what he needs to do to make Charlie viable in the Democratic Party."
Asked if Crist is a closeted gay man, Pease replied, "I have no idea; I never slept with him. I don't really care."
Not all the local Log Cabin leaders in attendance at the party were gay. Sandy Steen, who's 73 and vice chair of the Broward County-Florida chapter of Log Cabin Republicans, is straight and took a leadership role in the chapter because of the organization's support for her employer of 34 years, a former Broward County Property Appraiser and Republican.
"I know it's rather unique for a straight woman to be president and vice president of the Log Cabin club, but my husband and I are fiscal conservatives and social moderates, and I don't find that unusual at all," Steen said.
Steen, former mayor of Wilton Manors, Fla., a gay enclave, was optimistic that Romney would change his less than favorable positions on LGBT rights, saying, "I'm hoping he'll change some of his views once he is running, and, quite frankly, I think Obama supported gay marriage — I don't think he really personally supports it — but he did it as a campaign strategy. And quite frankly, we need to have a fiscal conservative in the White House. … I think [Romney] can create jobs; he can get our economy going again, and that's what's important."