So far 2013 has been off to a rousing start. If this is any indicator to what's to come, then by golly it's going to be a ball buster! With that said, there's no time to waste as we belly flop into what's really going on!
Django Slave Action Figure Doll Re-Boot
The outcry was piercing and deft as Black leaders from coast to coast maligned the marketing of "Django" action slave figures from the highly successful and now Oscar nominated film "Django Unchained," which resulted in the Weinstein Company after being silent on the issue decided to seek pulling the "dolls" from distribution. The product
re

lease by National Entertainment Collectibles Association (NECA)

consisted

of six Django action-figure dolls, which were for sale on Amazon.com. Each character figure was Eight-inches high, with moveable limbs, fabric clothing and "authentic" weapons, age recommendation 18 years and older. The full set could have been yours for $299.99 and who knows still might be available underground

somewhere.



Directed by recent Golden Globe Winner Quentin Tarantino and starring Oscar winner Jamie Fox, the film takes artistic license( if you want to call it that) with the era of slavery from Tarantino's vantage point. The decries came loud with ridicule for the item as many felt a total lack of sensitivity and "poor taste" was not considered in creating the dolls. Opinions from critics and collectors rand the gamut with some calling the movie and subsequent products "out of bounds"while others stated that the "figures" were only fictional characters from a film similar to other films such as Aliens or another Tarantino mash-up, Kill Bill.
The Little Rock Film & Freedom Academy

Announces Schedule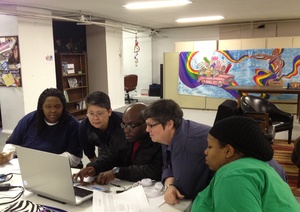 On January 4-7, 2013 CAR hosted the Queer Women of Color Media Arts Project (QWOCMAP) from San Francisco, CA. The wonderful training team was made up of Madeleine Lim and Liliana Hueso who worked with the seven participants on the basics of film making. Before the classes were over the participants had made a total of four finished film shorts.
The four films that were made are:
Obachan - By Tio Eshleman
I Am Lesbian - By Nico Capri, Brandon Jones, and Cris Owens
Little Fingers - By Miranda Wilson and Savannah Boykin
BREATH - By Randi M. Romo
CAR will screen these films at the Rainbow Community Luncheon on Monday, January 21, 2013 at 12:00 noon. We will be honoring the life and work of Dr. Martin Luther King Jr. The event also serves as a reminder that the Rainbow community is still not equal under this country's or the state of Arkansas' civil right laws.
They

are very excited to announce that these films will also be shown at QWOCMAP's annual film festival June 14-16, 2013 in San Francisco. This festival draws an audience of over 3,000 each year.
The Rainbow Community Luncheon is free and RSVP's are required. 501-244-9690 or

artchangesu@yahoo.com
Arkansas HIV Prevention Group Unveils New Logo
The Arkansas HIV Prevention Group voted during its monthly meeting to begin a re-branding process of the group by deciding upon a new logo designed by its Marketing committee. From a field of five, the members choose to use a piece that would be concise and definitive to its mission and could be easily reproduced for usage. "I though I would offer the group a variety of choices and themes," said Marketing Chair, D. Levi. " I wanted to incorporate various possibles ranging from basic symbols to more intricate symbolism that included a "people" shot."
After robust discussion, it was decided that from the two finalist, one would serve as the official "logo" and the other would be used in advertising or other press related items that will message the groups mission to decrease the number of Arkansans who become infected with HIV.
The overarching purpose of the group is to collaborate with the Arkansas Department of Health in developing a comprehensive plan that will be adopted as the jurisdictional mechanism for the prevention of HIV transmission, identify precedence of HIV prevention needs and ensure that prevention resources are directed to priority targeted populations. The group concluded 2012 with completing the task of submitting its comprehensive plan which was supported by a letter of concurrence to the Centers for Disease Control. In 2013, the group plans to share the plan findings with stakeholders, consumers, allies during scheduled meetings across the state.

Additionally the group will utilize social media site Facebook for information sharing and seek other new media outlets to publicize its activities and goals. Meetings take place the second Friday each month. For membership information contact: 501.661.2408 Additional resources can be found at www.healthyarkansas.gov